Come to the third year of our innovative film series that celebrates the creative spirit of architecture and design. Our selections explore how important both are to our everyday existence and how we engage with the designed world around us. Please join us in this exciting partnership to view the films and participate in discussion led by the partners involved.
Click here to download a flyer for the whole series.(1.05 MB)
All films are free and open to the public, and all will start at 7 PM at the Salt Lake City Main Library Nancy Tessman Auditorium, 210 East 400 South.
The human scale questions our assumptions about modernity, exploring what happens when we put people into the center of our equations.
For 40 years the Danish architect Jan Gehl has systematically studied human behavior in cities. His starting point was an interest in people, more than buildings – in what he called Life Between Buildings. What made it exist? When was it destroyed? How could it be brought back? This lead to studies of how human beings use the streets, how they walk, see, rest, meet, interact etc. Jan Gehl also uses statistics, but the questions he asks are different. For instance: How many people pass this street throughout a 24 hour period? How many percent of those are pedestrians? How many are driving cars or bikes? How much of the street space are the various groups allowed to use? Is this street performing well for all its users? Jan Gehl made his first studies in Italy and later he inspired the planning of Denmark's capital, Copenhagen, for 40 years. His ideas inspired the creation of walking streets, the building and improvements of bike paths and the reorganization of parks, squares and other public spaces throughout this city and in many other cities in the Nordic region. Around the world cities like Melbourne, Dhaka, New York, Chongqing and Christchurch are now also being inspired by Gehl's work and by the developments in Copenhagen.
Running Time: 77 Minutes
---
Presented with Salt Lake Design Week
Urbanized is a feature-length documentary about the design of cities, which looks at the issues and strategies behind urban design and features some of the world's foremost architects, planners, policymakers, builders, and thinkers. Over half the world's population now lives in an urban area, and 75% will call a city home by 2050. But while some cities are experiencing explosive growth, others are shrinking. The challenges of balancing housing, mobility, public space, civic engagement, economic development, and environmental policy are fast becoming universal concerns. Yet much of the dialogue on these issues is disconnected from the public domain.
Who is allowed to shape our cities, and how do they do it? Unlike many other fields of design, cities aren't created by any one specialist or expert. There are many contributors to urban change, including ordinary citizens who can have a great impact improving the cities in which they live. By exploring a diverse range of urban design projects around the world, Urbanized frames a global discussion on the future of cities.
Running Time: 85 Minutes
---
Presented in partnership with Salt Lake Modern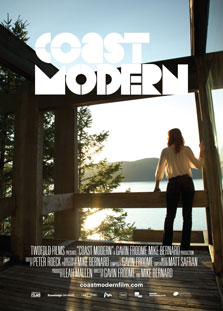 Coast Modern is an independent documentary by directors Mike Bernard and Gavin Froome. Travelling along the Pacific North West coastline from LA to Vancouver, the film showcases the pioneers of West Coast Modernist Architecture, and the homes that have become their legacies. Stepping inside the most inspired dwellings on the west coast, we feel how the light and space of a classic Modernist home can work in collaboration with the natural environment. Dion Neutra tells us that the way to live is to have 'the comfort of being inside, yet you have the feeling of being outside', and it is this established principle that contemporary Modernist architects are emulating and evolving.
This relaxed journey takes us across three generations of Modernist architecture, all finding beauty in their own times, and all taking us back to the basics of true living – a sense of place, light, and a deep connection to the earth. Interviewed in Coast Modern are some of the most respected names in architecture, including James Steele, Barbara Lamprecht, Ray Kappe, Hernik Bull, Pierluigi Serraino, Michael Folonis, Dion Neutra, Douglas Coupland, John Cava, Barbara Bestor and legendary photographer Julius Shulman.
Running Time: 55:30 Minutes
---
Diller Scofidio + Renfro has long been at the forefront of design. The interdisciplinary design firm, founded in 1979, first stirred interest with its provocative exhibitions of theoretically based projects that blurred the boundaries between art and architecture. In 1999, Elizabeth Diller and Ricardo Scofidio, the firm's founding principals, were awarded the prestigious "genius" grant by the MacArthur Foundation, in recognition of their commitment to integrating architecture with issues of contemporary culture.
With the almost simultaneous completion of two large-scale projects in New York City — the renovation of the High Line and revitalization and expansion of Lincoln Center for the Performing Arts — Diller Scofidio + Renfro has galvanized the public's attention. Between 2004 and 2011, the firm, in collaboration with James Corner Field Operations, converted the derelict High Line railroad tracks on the city's West Side (from Gansevoort to 30th streets) into a sophisticated 1.5 mile elevated urban park.
From early 2003 to 2010, DS+R redesigned Lincoln Center's Alice Tully Hall and the Juilliard School, built a free-standing, grass-covered pavilion that houses a destination restaurant (the Lincoln) and a public lawn, and inventively modified the public spaces connecting the complex's existing buildings. As architecture critic Martin Filler states in the film, "Both the High Line and Lincoln Center have had a really euphoric effect on life in New York. So it's populism of a very high order."
In this 54-minute documentary, intelligent commentary from the architects is complemented by remarkable cinematography and interviews with New York City planning commissioner Amanda Burden and other civic figures. Critics and theorists Mark Wigley, Anthony Vidler, and Mr. Filler, offer insights into the firm's history, previous completed projects, and their unique process of reimagining the public identities of two major New York urban spaces.
Running Time: 54 Minutes